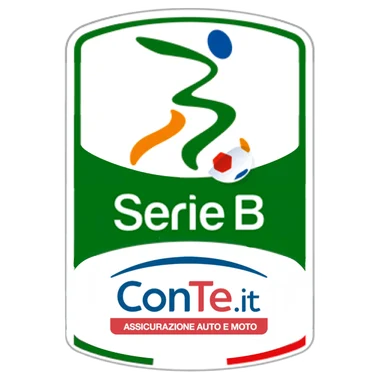 Football statistics for Italy - Serie B
Fixtures
| | | | | |
| --- | --- | --- | --- | --- |
| 03/12/2021 | Perugia | v.s. | Vicenza | |
| 04/12/2021 | Benevento | v.s. | Pordenone | |
| 04/12/2021 | Cosenza | v.s. | Cremonese | |
| 04/12/2021 | Frosinone | v.s. | Ternana | |
| 04/12/2021 | Crotone | v.s. | SPAL | |
| 04/12/2021 | Lecce | v.s. | Reggina | |
| 05/12/2021 | Como | v.s. | Pisa | |
| 05/12/2021 | Ascoli | v.s. | Parma | |
| 05/12/2021 | Brescia | v.s. | Monza | |
| 05/12/2021 | Alessandria | v.s. | Cittadella | |
Results
01/12/2021
Cittadella

2

:

2

Como
01/12/2021
Parma

0

:

1

Brescia
30/11/2021
Monza

4

:

1

Cosenza
30/11/2021
SPAL

1

:

3

Lecce
30/11/2021
Pordenone

2

:

0

Alessandria
30/11/2021
Vicenza

2

:

3

Benevento
30/11/2021
Reggina

1

:

2

Ascoli
30/11/2021
Cremonese

1

:

1

Frosinone
30/11/2021
Pisa

1

:

1

Perugia
29/11/2021
Ternana

1

:

0

Crotone
Week 15
30/11/2021
Pisa

1

:

1

Perugia
30/11/2021
Cremonese

1

:

1

Frosinone
30/11/2021
Vicenza

2

:

3

Benevento
30/11/2021
Reggina

1

:

2

Ascoli
30/11/2021
Pordenone

2

:

0

Alessandria
30/11/2021
Monza

4

:

1

Cosenza
30/11/2021
SPAL

1

:

3

Lecce
01/12/2021
Parma

0

:

1

Brescia
01/12/2021
Cittadella

2

:

2

Como
Week 14
26/11/2021
Lecce

3

:

3

Ternana
27/11/2021
Ascoli

1

:

1

Monza
27/11/2021
Benevento

4

:

0

Reggina
27/11/2021
Frosinone

2

:

2

Pordenone
27/11/2021
Cosenza

0

:

1

SPAL
27/11/2021
Alessandria

1

:

0

Cremonese
27/11/2021
Brescia

0

:

1

Pisa
27/11/2021
Perugia

1

:

1

Cittadella
28/11/2021
Como

1

:

1

Parma
Week 13
20/11/2021
Ternana

1

:

1

Cittadella
20/11/2021
SPAL

2

:

3

Alessandria
20/11/2021
Frosinone

0

:

0

Lecce
20/11/2021
Perugia

2

:

0

Crotone
20/11/2021
Vicenza

2

:

3

Brescia
21/11/2021
Parma

1

:

1

Cosenza
21/11/2021
Reggina

1

:

2

Cremonese
21/11/2021
Monza

3

:

2

Como
21/11/2021
Pisa

1

:

0

Benevento
Week 12
06/11/2021
Ascoli

2

:

1

Vicenza
06/11/2021
Alessandria

0

:

2

Ternana
06/11/2021
Cremonese

1

:

1

SPAL
06/11/2021
Como

4

:

1

Perugia
06/11/2021
Brescia

1

:

0

Pordenone
06/11/2021
Benevento

1

:

4

Frosinone
07/11/2021
Lecce

4

:

0

Parma
07/11/2021
Crotone

1

:

1

Monza
07/11/2021
Cittadella

2

:

0

Pisa
Week 11
01/11/2021
SPAL

1

:

2

Perugia
01/11/2021
Frosinone

2

:

1

Crotone
01/11/2021
Lecce

3

:

1

Cosenza
01/11/2021
Monza

1

:

0

Alessandria
01/11/2021
Reggina

0

:

1

Cittadella
01/11/2021
Ternana

1

:

2

Como
01/11/2021
Parma

1

:

0

Vicenza
01/11/2021
Pisa

1

:

1

Ascoli
01/11/2021
Pordenone

2

:

2

Cremonese
Week 10
27/10/2021
Vicenza

1

:

1

Monza
28/10/2021
Brescia

1

:

1

Lecce
28/10/2021
Ascoli

0

:

1

SPAL
28/10/2021
Alessandria

1

:

1

Frosinone
28/10/2021
Perugia

0

:

2

Reggina
28/10/2021
Cremonese

1

:

1

Pisa
28/10/2021
Crotone

0

:

2

Benevento
28/10/2021
Cittadella

1

:

2

Parma
28/10/2021
Como

1

:

0

Pordenone
Week 9
23/10/2021
Benevento

3

:

0

Cosenza
23/10/2021
Lecce

0

:

0

Perugia
23/10/2021
Monza

1

:

0

Cittadella
23/10/2021
Ternana

5

:

0

Vicenza
23/10/2021
Frosinone

2

:

1

Ascoli
23/10/2021
Brescia

1

:

0

Cremonese
24/10/2021
Pisa

1

:

1

Pordenone
24/10/2021
Reggina

2

:

1

Parma
24/10/2021
SPAL

1

:

1

Como
Week 8
16/10/2021
Crotone

2

:

1

Pisa
16/10/2021
Pordenone

1

:

3

Ternana
16/10/2021
Ascoli

1

:

1

Lecce
16/10/2021
Cosenza

1

:

1

Frosinone
16/10/2021
Perugia

1

:

0

Brescia
16/10/2021
Como

2

:

0

Alessandria
17/10/2021
Cremonese

1

:

1

Benevento
17/10/2021
Parma

0

:

0

Monza
17/10/2021
Cittadella

0

:

0

SPAL
Week 7
02/10/2021
Alessandria

1

:

0

Cosenza
02/10/2021
Frosinone

0

:

1

Cittadella
02/10/2021
Cremonese

2

:

0

Ternana
02/10/2021
Crotone

2

:

2

Ascoli
02/10/2021
Pisa

2

:

0

Reggina
02/10/2021
SPAL

2

:

2

Parma
03/10/2021
Brescia

2

:

4

Como
03/10/2021
Pordenone

2

:

4

Vicenza
03/10/2021
Benevento

0

:

0

Perugia
Week 6
25/09/2021
Como

1

:

1

Benevento
25/09/2021
Ascoli

2

:

3

Brescia
25/09/2021
Monza

3

:

1

Pordenone
25/09/2021
Reggina

0

:

0

Frosinone
25/09/2021
Cosenza

1

:

0

Crotone
26/09/2021
Perugia

1

:

1

Alessandria
26/09/2021
Parma

1

:

1

Pisa
26/09/2021
Ternana

1

:

0

SPAL
26/09/2021
Vicenza

0

:

1

Cremonese
Week 5
21/09/2021
Alessandria

1

:

3

Ascoli
21/09/2021
Benevento

4

:

1

Cittadella
21/09/2021
Cosenza

2

:

0

Como
21/09/2021
Pordenone

1

:

1

Reggina
21/09/2021
SPAL

3

:

2

Vicenza
21/09/2021
Crotone

0

:

3

Lecce
21/09/2021
Pisa

2

:

1

Monza
22/09/2021
Ternana

3

:

1

Parma
22/09/2021
Cremonese

0

:

3

Perugia
Week 4
17/09/2021
Brescia

2

:

2

Crotone
18/09/2021
Ascoli

0

:

2

Benevento
18/09/2021
Lecce

3

:

2

Alessandria
18/09/2021
Reggina

2

:

1

SPAL
18/09/2021
Perugia

1

:

1

Cosenza
18/09/2021
Monza

1

:

1

Ternana
18/09/2021
Vicenza

1

:

3

Pisa
18/09/2021
Cittadella

1

:

0

Pordenone
19/09/2021
Parma

1

:

2

Cremonese
Week 3
11/09/2021
SPAL

1

:

1

Monza
11/09/2021
Alessandria

1

:

3

Brescia
11/09/2021
Frosinone

0

:

0

Perugia
11/09/2021
Como

0

:

1

Ascoli
11/09/2021
Ternana

1

:

4

Pisa
11/09/2021
Crotone

1

:

1

Reggina
12/09/2021
Cosenza

2

:

1

Vicenza
12/09/2021
Cremonese

2

:

0

Cittadella
12/09/2021
Pordenone

0

:

4

Parma
Week 2
27/08/2021
Brescia

5

:

1

Cosenza
28/08/2021
Vicenza

0

:

2

Frosinone
28/08/2021
Perugia

2

:

3

Ascoli
29/08/2021
Cittadella

4

:

2

Crotone
29/08/2021
Monza

1

:

0

Cremonese
29/08/2021
Reggina

3

:

2

Ternana
29/08/2021
SPAL

5

:

0

Pordenone
29/08/2021
Lecce

1

:

1

Como
29/08/2021
Parma

1

:

0

Benevento
Week 1
21/08/2021
Pordenone

0

:

1

Perugia
21/08/2021
Cittadella

1

:

0

Vicenza
22/08/2021
Reggina

0

:

0

Monza
22/08/2021
Ternana

0

:

2

Brescia
22/08/2021
Cremonese

3

:

0

Lecce
22/08/2021
Crotone

2

:

2

Como
22/08/2021
Ascoli

1

:

0

Cosenza
22/08/2021
Pisa

1

:

0

SPAL
22/08/2021
Benevento

4

:

3

Alessandria
Week 16
| | | | | |
| --- | --- | --- | --- | --- |
| 04/12/2021 | Benevento | v.s. | Pordenone | |
| 04/12/2021 | Crotone | v.s. | SPAL | |
| 04/12/2021 | Cosenza | v.s. | Cremonese | |
| 04/12/2021 | Frosinone | v.s. | Ternana | |
| 04/12/2021 | Lecce | v.s. | Reggina | |
| 05/12/2021 | Como | v.s. | Pisa | |
| 05/12/2021 | Ascoli | v.s. | Parma | |
| 05/12/2021 | Brescia | v.s. | Monza | |
| 05/12/2021 | Alessandria | v.s. | Cittadella | |
Week 17
| | | | | |
| --- | --- | --- | --- | --- |
| 10/12/2021 | Ternana | v.s. | Benevento | |
| 11/12/2021 | Cittadella | v.s. | Ascoli | |
| 11/12/2021 | Monza | v.s. | Frosinone | |
| 11/12/2021 | Pordenone | v.s. | Cosenza | |
| 11/12/2021 | SPAL | v.s. | Brescia | |
| 11/12/2021 | Pisa | v.s. | Lecce | |
| 12/12/2021 | Parma | v.s. | Perugia | |
| 12/12/2021 | Vicenza | v.s. | Como | |
| 12/12/2021 | Reggina | v.s. | Alessandria | |
Week 18
| | | | | |
| --- | --- | --- | --- | --- |
| 18/12/2021 | Crotone | v.s. | Pordenone | |
| 18/12/2021 | Ascoli | v.s. | Cremonese | |
| 18/12/2021 | Como | v.s. | Reggina | |
| 18/12/2021 | Frosinone | v.s. | SPAL | |
| 19/12/2021 | Alessandria | v.s. | Parma | |
| 19/12/2021 | Brescia | v.s. | Cittadella | |
| 19/12/2021 | Perugia | v.s. | Ternana | |
| 19/12/2021 | Benevento | v.s. | Monza | |
| 20/12/2021 | Lecce | v.s. | Vicenza | |
Week 19
| | | | | |
| --- | --- | --- | --- | --- |
| 26/12/2021 | Pordenone | v.s. | Lecce | |
| 26/12/2021 | SPAL | v.s. | Benevento | |
| 26/12/2021 | Reggina | v.s. | Brescia | |
| 26/12/2021 | Monza | v.s. | Perugia | |
| 26/12/2021 | Cremonese | v.s. | Como | |
| 26/12/2021 | Vicenza | v.s. | Alessandria | |
| 26/12/2021 | Cittadella | v.s. | Cosenza | |
| 26/12/2021 | Ternana | v.s. | Ascoli | |
| 26/12/2021 | Pisa | v.s. | Frosinone | |
Week 20
| | | | | |
| --- | --- | --- | --- | --- |
| 29/12/2021 | Alessandria | v.s. | Benevento | |
| 29/12/2021 | SPAL | v.s. | Pisa | |
| 29/12/2021 | Monza | v.s. | Reggina | |
| 29/12/2021 | Brescia | v.s. | Ternana | |
| 29/12/2021 | Perugia | v.s. | Pordenone | |
| 29/12/2021 | Vicenza | v.s. | Cittadella | |
| 29/12/2021 | Cosenza | v.s. | Ascoli | |
| 29/12/2021 | Como | v.s. | Crotone | |
| 29/12/2021 | Lecce | v.s. | Cremonese | |
Week 21
| | | | | |
| --- | --- | --- | --- | --- |
| 15/01/2022 | Crotone | v.s. | Cittadella | |
| 15/01/2022 | Cremonese | v.s. | Monza | |
| 15/01/2022 | Benevento | v.s. | Parma | |
| 15/01/2022 | Cosenza | v.s. | Brescia | |
| 15/01/2022 | Como | v.s. | Lecce | |
| 15/01/2022 | Frosinone | v.s. | Vicenza | |
| 15/01/2022 | Ascoli | v.s. | Perugia | |
| 15/01/2022 | Ternana | v.s. | Reggina | |
| 15/01/2022 | Pordenone | v.s. | SPAL | |
Week 22
| | | | | |
| --- | --- | --- | --- | --- |
| 22/01/2022 | Lecce | v.s. | Benevento | |
| 22/01/2022 | Brescia | v.s. | Alessandria | |
| 22/01/2022 | Ascoli | v.s. | Como | |
| 22/01/2022 | Reggina | v.s. | Crotone | |
| 22/01/2022 | Perugia | v.s. | Frosinone | |
| 22/01/2022 | Parma | v.s. | Pordenone | |
| 22/01/2022 | Monza | v.s. | SPAL | |
| 22/01/2022 | Pisa | v.s. | Ternana | |
| 22/01/2022 | Vicenza | v.s. | Cosenza | |
Week 23
| | | | | |
| --- | --- | --- | --- | --- |
| 05/02/2022 | SPAL | v.s. | Reggina | |
| 05/02/2022 | Cremonese | v.s. | Parma | |
| 05/02/2022 | Ternana | v.s. | Monza | |
| 05/02/2022 | Alessandria | v.s. | Lecce | |
| 05/02/2022 | Pisa | v.s. | Vicenza | |
| 05/02/2022 | Frosinone | v.s. | Como | |
| 05/02/2022 | Cosenza | v.s. | Perugia | |
| 05/02/2022 | Pordenone | v.s. | Cittadella | |
| 05/02/2022 | Benevento | v.s. | Ascoli | |
Week 24
| | | | | |
| --- | --- | --- | --- | --- |
| 11/02/2022 | Cittadella | v.s. | Benevento | |
| 11/02/2022 | Parma | v.s. | Ternana | |
| 11/02/2022 | Vicenza | v.s. | SPAL | |
| 11/02/2022 | Como | v.s. | Cosenza | |
| 11/02/2022 | Ascoli | v.s. | Alessandria | |
| 11/02/2022 | Reggina | v.s. | Pordenone | |
| 11/02/2022 | Monza | v.s. | Pisa | |
| 11/02/2022 | Brescia | v.s. | Frosinone | |
| 11/02/2022 | Perugia | v.s. | Cremonese | |
Week 25
| | | | | |
| --- | --- | --- | --- | --- |
| 18/02/2022 | Brescia | v.s. | Ascoli | |
| 18/02/2022 | Cremonese | v.s. | Vicenza | |
| 18/02/2022 | Frosinone | v.s. | Reggina | |
| 18/02/2022 | Alessandria | v.s. | Perugia | |
| 18/02/2022 | Pisa | v.s. | Parma | |
| 18/02/2022 | Pordenone | v.s. | Monza | |
| 18/02/2022 | Benevento | v.s. | Como | |
| 18/02/2022 | Crotone | v.s. | Cosenza | |
| 18/02/2022 | SPAL | v.s. | Ternana | |
Week 26
| | | | | |
| --- | --- | --- | --- | --- |
| 25/02/2022 | Perugia | v.s. | Benevento | |
| 25/02/2022 | Cosenza | v.s. | Alessandria | |
| 25/02/2022 | Como | v.s. | Brescia | |
| 25/02/2022 | Cittadella | v.s. | Frosinone | |
| 25/02/2022 | Parma | v.s. | SPAL | |
| 25/02/2022 | Vicenza | v.s. | Pordenone | |
| 25/02/2022 | Reggina | v.s. | Pisa | |
| 25/02/2022 | Monza | v.s. | Lecce | |
| 25/02/2022 | Ternana | v.s. | Cremonese | |
Week 27
| | | | | |
| --- | --- | --- | --- | --- |
| 28/02/2022 | Lecce | v.s. | Ascoli | |
| 28/02/2022 | SPAL | v.s. | Cittadella | |
| 28/02/2022 | Alessandria | v.s. | Como | |
| 28/02/2022 | Benevento | v.s. | Cremonese | |
| 28/02/2022 | Pisa | v.s. | Crotone | |
| 28/02/2022 | Reggina | v.s. | Vicenza | |
| 28/02/2022 | Monza | v.s. | Parma | |
| 28/02/2022 | Brescia | v.s. | Perugia | |
| 28/02/2022 | Ternana | v.s. | Pordenone | |
Week 28
| | | | | |
| --- | --- | --- | --- | --- |
| 04/03/2022 | Cosenza | v.s. | Benevento | |
| 04/03/2022 | Cittadella | v.s. | Monza | |
| 04/03/2022 | Perugia | v.s. | Lecce | |
| 04/03/2022 | Ascoli | v.s. | Frosinone | |
| 04/03/2022 | Vicenza | v.s. | Ternana | |
| 04/03/2022 | Como | v.s. | SPAL | |
| 04/03/2022 | Parma | v.s. | Reggina | |
| 04/03/2022 | Pordenone | v.s. | Pisa | |
| 04/03/2022 | Cremonese | v.s. | Brescia | |
Week 29
| | | | | |
| --- | --- | --- | --- | --- |
| 11/03/2022 | Ternana | v.s. | Cosenza | |
| 11/03/2022 | Reggina | v.s. | Perugia | |
| 11/03/2022 | Monza | v.s. | Vicenza | |
| 11/03/2022 | Benevento | v.s. | Crotone | |
| 11/03/2022 | Pisa | v.s. | Cremonese | |
| 11/03/2022 | Frosinone | v.s. | Alessandria | |
| 11/03/2022 | SPAL | v.s. | Ascoli | |
| 11/03/2022 | Lecce | v.s. | Brescia | |
| 11/03/2022 | Parma | v.s. | Cittadella | |
Week 30
| | | | | |
| --- | --- | --- | --- | --- |
| 14/03/2022 | Crotone | v.s. | Frosinone | |
| 14/03/2022 | Cosenza | v.s. | Lecce | |
| 14/03/2022 | Como | v.s. | Ternana | |
| 14/03/2022 | Perugia | v.s. | SPAL | |
| 14/03/2022 | Cittadella | v.s. | Reggina | |
| 14/03/2022 | Vicenza | v.s. | Parma | |
| 14/03/2022 | Brescia | v.s. | Benevento | |
| 14/03/2022 | Cremonese | v.s. | Pordenone | |
| 14/03/2022 | Ascoli | v.s. | Pisa | |
Week 31
| | | | | |
| --- | --- | --- | --- | --- |
| 18/03/2022 | Reggina | v.s. | Cosenza | |
| 18/03/2022 | Perugia | v.s. | Como | |
| 18/03/2022 | Pisa | v.s. | Cittadella | |
| 18/03/2022 | Pordenone | v.s. | Brescia | |
| 18/03/2022 | Monza | v.s. | Crotone | |
| 18/03/2022 | Frosinone | v.s. | Benevento | |
| 18/03/2022 | Vicenza | v.s. | Ascoli | |
| 18/03/2022 | Ternana | v.s. | Alessandria | |
| 18/03/2022 | SPAL | v.s. | Cremonese | |
Week 32
| | | | | |
| --- | --- | --- | --- | --- |
| 01/04/2022 | Como | v.s. | Monza | |
| 01/04/2022 | Brescia | v.s. | Vicenza | |
| 01/04/2022 | Lecce | v.s. | Frosinone | |
| 01/04/2022 | Cosenza | v.s. | Parma | |
| 01/04/2022 | Cittadella | v.s. | Ternana | |
| 01/04/2022 | Alessandria | v.s. | SPAL | |
| 01/04/2022 | Cremonese | v.s. | Reggina | |
| 01/04/2022 | Ascoli | v.s. | Pordenone | |
| 01/04/2022 | Benevento | v.s. | Pisa | |
Week 33
| | | | | |
| --- | --- | --- | --- | --- |
| 04/04/2022 | Cremonese | v.s. | Alessandria | |
| 04/04/2022 | Reggina | v.s. | Benevento | |
| 04/04/2022 | Pisa | v.s. | Brescia | |
| 04/04/2022 | Parma | v.s. | Como | |
| 04/04/2022 | SPAL | v.s. | Cosenza | |
| 04/04/2022 | Vicenza | v.s. | Crotone | |
| 04/04/2022 | Pordenone | v.s. | Frosinone | |
| 04/04/2022 | Cittadella | v.s. | Perugia | |
| 04/04/2022 | Monza | v.s. | Ascoli | |
Week 34
| | | | | |
| --- | --- | --- | --- | --- |
| 08/04/2022 | Benevento | v.s. | Vicenza | |
| 08/04/2022 | Frosinone | v.s. | Cremonese | |
| 08/04/2022 | Alessandria | v.s. | Pordenone | |
| 08/04/2022 | Crotone | v.s. | Ternana | |
| 08/04/2022 | Cosenza | v.s. | Monza | |
| 08/04/2022 | Ascoli | v.s. | Reggina | |
| 08/04/2022 | Lecce | v.s. | SPAL | |
| 08/04/2022 | Brescia | v.s. | Parma | |
| 08/04/2022 | Como | v.s. | Cittadella | |
Week 35
| | | | | |
| --- | --- | --- | --- | --- |
| 17/04/2022 | Cittadella | v.s. | Alessandria | |
| 17/04/2022 | Monza | v.s. | Brescia | |
| 17/04/2022 | Pisa | v.s. | Como | |
| 17/04/2022 | SPAL | v.s. | Crotone | |
| 17/04/2022 | Pordenone | v.s. | Benevento | |
| 17/04/2022 | Ternana | v.s. | Frosinone | |
| 17/04/2022 | Reggina | v.s. | Lecce | |
| 17/04/2022 | Cremonese | v.s. | Cosenza | |
| 17/04/2022 | Vicenza | v.s. | Perugia | |
Week 36
| | | | | |
| --- | --- | --- | --- | --- |
| 24/04/2022 | Ascoli | v.s. | Cittadella | |
| 24/04/2022 | Crotone | v.s. | Cremonese | |
| 24/04/2022 | Frosinone | v.s. | Monza | |
| 24/04/2022 | Perugia | v.s. | Parma | |
| 24/04/2022 | Lecce | v.s. | Pisa | |
| 24/04/2022 | Alessandria | v.s. | Reggina | |
| 24/04/2022 | Brescia | v.s. | SPAL | |
| 24/04/2022 | Benevento | v.s. | Ternana | |
| 24/04/2022 | Cosenza | v.s. | Pordenone | |
Week 37
| | | | | |
| --- | --- | --- | --- | --- |
| 29/04/2022 | Ternana | v.s. | Perugia | |
| 29/04/2022 | Pisa | v.s. | Cosenza | |
| 29/04/2022 | Parma | v.s. | Alessandria | |
| 29/04/2022 | Cremonese | v.s. | Ascoli | |
| 29/04/2022 | Monza | v.s. | Benevento | |
| 29/04/2022 | Cittadella | v.s. | Brescia | |
| 29/04/2022 | Reggina | v.s. | Como | |
| 29/04/2022 | Pordenone | v.s. | Crotone | |
| 29/04/2022 | Vicenza | v.s. | Lecce | |
Week 38
| | | | | |
| --- | --- | --- | --- | --- |
| 05/05/2022 | Alessandria | v.s. | Vicenza | |
| 05/05/2022 | Brescia | v.s. | Reggina | |
| 05/05/2022 | Lecce | v.s. | Pordenone | |
| 05/05/2022 | Crotone | v.s. | Parma | |
| 05/05/2022 | Frosinone | v.s. | Pisa | |
| 05/05/2022 | Perugia | v.s. | Monza | |
| 05/05/2022 | Ascoli | v.s. | Ternana | |
| 05/05/2022 | Benevento | v.s. | SPAL | |
| 05/05/2022 | Cosenza | v.s. | Cittadella | |
More About Italy - Serie B
What is Italy - Serie B?
Italy - Serie B is the 2nd division of football in Italy. 20 teams are playing between themselves throughout the year to compete and win the title. The last places of the standings at the end of the competition are relegated to the lower division.
Welcome to APWin
Signup and become a FREE member to have access with unlimited time.
or register with email
Already have an account? Sign in
Switch to